Active Spaces for Latino Kids: Policy and Practice Implications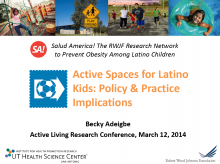 Author:
Rebecca Adeigbe, MS, Rosalie Aguilar, MS, Cliff Despres, MA, Kipling Gallion, MA, & Amelie G. Ramirez, DrPH
Description:
Presentation at the 2014 Active Living Research Annual Conference.
Background and Purpose
In the United States, rates of overweight and obesity among Latino children (38%) are higher than those among their White peers (29%).Physical activity is important for good health, physical and cognitive growth and development, and maintaining a healthy weight. (1) Latino children in underserved communities often have limited options for physical activity and Latinos, more so than their white counterparts perceive their neighborhoods as having few safe places for children to play (70% versus 82.5%). (2) To address this, Salud America! The Robert Wood Johnson Foundation Research Network to Prevent Obesity Among Latino Children, which aims to increase the number of stakeholders conducted research and community change to reduce and prevent Latino childhood obesity (LCO), has synthesizing research and developed policy recommendations on "Active Spaces and Latino Kids" to fuel discussions and stimulate changes in policies that will increase the amount of publicly available active spaces for Latino kids. The main objectives of this study were to: 1) review and consolidate the field of evidence related to initiatives and research focused on built environments and street-scale improvements and their impact on physical activity behaviors among Latino children in underserved communities; and 2) based on the field of evidence, create policy recommendations for improving environments in predominantly Latino communities.
Description
Electronic searches of PubMed, Google Scholar, and government and organization websites were performed to identify literature, policy statements, and legislation published between 2000 and 2012 that were relevant to the implementation of shared-use agreements (SUAs) and street-scale improvements to increase physical activity among Latino children, defined as individuals younger than 18.
Lessons Learned
This Salud America! study generated interesting findings on the factors that affect the opportunities Latino children have to seek physical activity in their neighborhoods and also provided guidance as to the best ways to increase active spaces in Latino communities.
Common themes and significant findings are outlined below.
Latino children living in underserved communities in the United States have limited access to recreation sites. (3-6)
Limited progress has been made in the sharing of school recreational facilities with community members. Some Latino communities have implemented SUAs and succeeded in providing residents with more access to recreational facilities. (7)
Liability concerns, funding and staffing are among the top barriers to sharing school physical activity facilities with community members. (8,9)
Characteristics of neighborhoods and the built environment may affect how frequently children and families walk or bike to sites available for recreation and physical activity. (10-12)
Multi-dimensional tools for assessing the impact of the built environment on physical activity are crucial for planning recreation facilities that meet the needs of Latino communities and increasing the use of the facilities among Latino children in underserved communities. (13-15)
Conclusions and Implications
Shared use agreements and street-level improvements are among the best ways to improve access to these "active spaces" in underserved communities and may help young Latinos become more physically active and maintain a healthy weight.
Implications for Practice and Policy
Efforts should focus on meeting the following needs to increase access to physical activity sites and facilities in Latino underserved communities:
Street-scale improvements (e.g., repairing sidewalks and installing bike lanes and street lights) can address concerns about environmental barriers and improve perceptions of the built environment, potentially increasing levels of physical activity among Latino children in the community.
Appropriate measures must be used to assess the built environment and ensure that new and existing areas for physical activity meet the specific cultural needs of the Latino community.
State and local governments should work with school administrators to address liability and other concerns for schools that pave the way for access to their facilities for recreational use during non-school hours.
State and local governments should ensure that SUAs and other statutes specifically describe covered activities, terms and conditions.
State and local governments should encourage awareness of current statutes and adoption of SUAs among school administrators.
Local governments and policymakers should solicit community feedback to strengthen the development of new recreation sites and implementation of street-scale improvements.
Local governments and policymakers should create Complete Streets policies for all new transportation projects near schools and recreation sites to improve active travel to those sites.
View complete findings and policy implications in the Salud America! report on "active spaces".
Next Steps
To increase access to physical activity sites in Latino communities, further research is needed on the effectiveness of SUAs for increasing physical activity in Latino communities. Real and perceived barriers to implementing SUAs should be further explored to identify areas for improvement in policies and legislation and to educate stakeholders on how to overcome the barriers. In addition, refinements to tools used to assess built environments are needed to potentially become more applicable to Latino communities to ensure that street-scale improvements and physical activity sites are well informed and in the best interest of the Latino community.
References
Ogden CL, Carroll MD, Curtin LR, Lamb MM, and Flegal KM, Prevalence of high body mass index in us children and adolescents, 2007-2008. JAMA, 2010. 303(3): p. 242-249.
Moore LV, Diez Roux AV, Evenson KR, McGinn AP, and Brines SJ, Availability of Recreational Resources in Minority and Low Socioeconomic Status Areas. American Journal of Preventive Medicine, 2008. 34(1): p. 16-22.
Wilson DK, Kirtland KA, Ainsworth BE, and Addy C, Socioeconomic status and perceptions of access and safety for physical activity. Annals of Behavioral Medicine, 2004. 28(1): p. 20-28.
Powell LM, Slater S, Chaloupka FJ, and Harper D, Availability of Physical Activity–Related Facilities and Neighborhood Demographic and Socioeconomic Characteristics: A National Study. American Journal of Public Health, 2006. 96(9): p. 1676-1680.
Babey SH, Hastert TA, and Brown ER, Teens Living in Disadvantaged Neighborhoods Lack Access to Parks and Get Less Physical Activity. 2007.
Gomez-Feliciano L, McCreary LL, Sadowsky R, Peterson S, Hernandez A, McElmurry BJ, and Park CG, Active Living Logan Square: Joining Together to Create Opportunities for Physical Activity. American Journal of Preventive Medicine, 2009. 37(6, Supplement 2): p. S361-S367.
US Department of Health and Human Services. Healthy People 2010 Final Review. 2010; Available from: http://www.cdc.gov/nchs/healthy_people/hp2010/hp2010_final_review.htm.
Spengler JO, Connaughton DP, and Maddock, J, Liability Concerns and Shared Use of School Recreational Facilities in Underserved Communities. American Journal of Preventive Medicine, 2011. 41(4): p. 415-420.
9.Baker T and Masud H, Liability Risks for After-Hours Use of Public School Property to Reduce Obesity: A 50-State Survey. Journal of School Health, 2010. 80(10): p. 508-513.
A list of all references can be found here.
Support / Funding Source
Salud America! The Robert Wood Johnson Foundation Research Network to Prevent Obesity Among Latino Children is funded by the Robert Wood Johnson Foundation (ID 70208).
RECENTLY ADDED TOOLS & RESOURCES
Research Briefs & Syntheses
We are pleased to announce an exciting new alliance between Active Living Research and GP RED to co-host and coordinate...

The "Active Living Conference" aims to break down research and practice silos and...
August 14, 2018