Ciclovia Participation and Impacts in San Diego: Evaluating the First CicloSDias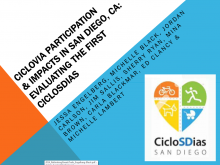 Author:
Jessa Engelberg, BA, Michelle Black, BS, BA, Jordan Carlson, PhD, MA, Sherry Ryan, PhD, James Sallis, PhD, Tracy Delaney, PhD, RD, Mina Brown, ACIP, MA, & Ed Clancy, BA
Description:
Presentation at the 2014 Active Living Research Annual Conference.
Background and Purpose
San Diego held its first Open Streets event called CicloSDias on Sunday August 11th, 2013. This event was modeled after the community-based Ciclovía programs which are held internationally. From 10AM to 4PM, streets were temporarily closed to vehicles, allowing exclusive access to cyclists and pedestrians for active recreation. The 5.2 mile route crossed through four diverse neighborhoods in an effort to involve individuals from low socioeconomic status (SES) and ethnically diverse populations.
Objectives
This study evaluated participation rates and impacts of CicloSDias in four areas: 1) reach and attendance; 2) impacts on attendees' physical activity ; 3) impacts on local businesses, 4) support for improved bicycling infrastructure.
Methods
Attendee counting. Direct observation was used to obtain counts of attendees. Attendees were classified by gender (male vs. female), age (adult vs. child) and activity (biking, pedestrian, or other wheeled device). Intercept surveys. A brief intercept survey assessed attendees motivation for attending, reach of the event, physical activity during the event as well as a typical week, and attitudes towards bicycling infrastructure. Large posters were used to collect data on four survey questions perceived as most important to expand the sample. Business survey. To determine the impact on local businesses, a brief survey was distributed at the end of the event to all businesses along the route. The survey questions were intended to capture the impacts of CicloSDias on the business' customers, staff and profits, as well as how supportive business owners were to having another CicloSDias. Community-wide survey. Two-weeks prior to the event, a city-wide survey was administered via telephone to inquire about their knowledge of CicloSDias and their support for bicycling infrastructure. Random digit dialing was conducted within San Diego City zip codes, with a greater proportion of people living near the event being targeted. Another survey was conducted during the two-week period directly following CicloSDias, using the same methods and a new randomly-selected sample. Similar questions were used so that changes in knowledge of CicloSDias and support for bicycling infrastructure could be investigated.
Results
Attendance: Approximately 8,311 people participated in the CicloSDias event.  The most common modes of travel at the event were cycling, at over 80%, and about 12% walked. The distribution across gender and age was around 53%-54% of cyclists recorded as male and 34%-35% recorded as female. Around 11%-13% of cyclists were children.
Reach of event: Data are currently being analyzed for all other outcomes. The final report will compare characteristics of the attendees to people living in the area around the event as well as across San Diego. It will also document how many people in the community-wide survey had heard about event and how, which will suggest the most effective mode of advertisement and outreach.
Impacts on physical activity: One thousand surveys were collected at the event. The final report will compare minutes of PA during the event to minutes of PA on a typical weekend day.  Association between SES and race/ethnicity with self-reported PA impacts will be analyzed.
Impacts on businesses: Business impact survey data (n=30) will be analyzed to determine if businesses were supportive of the event and how their business was impacted. From the intercept surveys, the final study will investigate how many attendees shopped at local businesses.
Supportiveness for bicycling infrastructure: There were 404 community-wide pre-surveys and 405 post-surveys collected, with 174 total being Latino. The final report will compare supportiveness of attendees to supportiveness of respondents to the community-wide survey. Additionally, the pre- and post-community-wide survey data will be compared to assess change in support. Correlates of support for improved bicycling infrastructure will be assessed.
Conclusions
The present evaluation appears to be unique in being a particularly thorough assessment of the first Ciclovia event in a city, which allows for examination of the impact on community support for policies related to bicycle infrastructure. By conducting a thorough assessment of attendees, a population sample, and local businesses, the results can be used to justify and improve similar events in the future.
Implications for Practice and Policy
Open Streets events require substantial planning and costs, so identifying benefits of the events can help justify future events. Each component of the present evaluation provides information of relevant to program planners and policy makers. Participating in CicloSDias or seeing favorable media coverage may increase support for improved bicycle infrastructure. Support from the business community is likely to be critical to acceptance of future events. The community-wide surveys determine the most effective methods of advertisement and distribution of event information and can identify neighborhoods with the most interest in hosting future events.
Support / Funding Source
The California Endowment.
RECENTLY ADDED TOOLS & RESOURCES
Research Briefs & Syntheses
We are pleased to announce an exciting new alliance between Active Living Research and GP RED to co-host and coordinate...

The "Active Living Conference" aims to break down research and practice silos and...
August 14, 2018