Safe Routes to School & School Siting: The Challenge of Supporting Diverse, Walkable Schools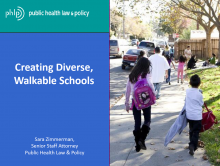 Author:
Sara Zimmerman, BA, JD
Description:
Presentation at the 2012 Active Living Research Annual Conference.  
Background
Children, particularly those in low-income and minority communities, often lack opportunities for regular physical activity, resulting in higher rates of obesity and health disparities.1,2,3 Safe Routes to School (SRTS) programs can help children incorporate physical activity into daily routines.4 In order to walk or bike to school, children must attend a school located within a mile or two of their home. As a result, SRTS advocates see neighborhood schools as very important to supporting SRTS.
However, the United States has high levels of residential racial segregation.5 In consequence, efforts to ensure that children attend walkable schools have the very real potential to increase school segregation. This presentation will discuss research into tension between walkability and diversity, and identify short- and long-term approaches to balancing these values.
Objectives
This legal and policy research project had three objectives:
To confirm whether the theoretical tension between walkability and diversity existed in actual communities.
To explore solutions and strategies for balancing the values of health and educational equity in this context.
To increase physical activity in children without increasing segregation or harming educational equity.
​
Methods
To understand the potential for tension between walkability and diversity in educational settings, Public Health Law & Policy's National Policy & Legal Analysis Network to Prevent Childhood Obesity (NPLAN) project conducted research and literature reviews, undertook key informant interviews, and explored case studies. The research assessed the relationship between school site locations and ability to walk and bicycle to school, and looked in depth at changes that have taken place in school site locations, including the decreasing number of schools in the United States, and the increasing distance between students' residences and schools. Research was also conducted into levels and patterns of residential segregation. Ten case studies explored racial diversity and walkability in school districts in a variety of states, rural, suburban, and urban contexts, and geographic areas.
NPLAN also conducted key informant interviews on the topic with numerous experts in the various fields affecting this area of study, to obtain real world insights and additional feedback. Interviews included national organizations focused on active transportation, national organizations focused on educational equity, national and local school board officials and associations, racial justice advocates, and local SRTS advocates in Kentucky, Illinois, North Carolina, Maryland, Idaho, Montana, and California. NPLAN also explored legal issues around the constitutionality of race-based decision making in the context of school siting and student assignment policies.
Results
Research determined that the United States continues to have high levels of racial, ethnic, and socioeconomic residential segregation, at neighborhood, municipal, and regional levels. In addition, children experience higher levels of residential segregation than the general population. The research clearly demonstrated that simply assigning children to neighborhood-based schools, without attention to issues of diversity, is likely to increase segregation in schools.
A variety of short- and long-term approaches to address this issue were explored, and each was assessed for its impact on diversity and walkability. The research was used to inform model school siting policies for local school districts under development. Areas for additional research were also identified, including the need for more GIS work at the local level to explore the impact of different attendance boundaries and school locations on walkability and diversity.
Conclusions
Walkability and diversity in the educational environment are in tension. It is unlikely that communities will successfully maximize both diversity and walkability without careful, thoughtful, data-driven planning and decision making. School districts and local governments need to work together to provide school locations, student assignment policies, and residential development that support both walkability and diversity.
References
1Moore LV et al. "Availability of recreational resources in minority and low socioeconomic status areas." American Journal of Preventative Medicine, 34(1): 16-22, 2008.
2Abercrombie LC et al. "Income and racial disparities in access to public parks and private recreation facilities." American Journal of Preventative Medicine, 34(1): 9-15, 2008.
3Lee RE et al. "The Physical Activity Resource Assessment (PARA) instrument: Evaluating features, amenities, and incivilities of physical activity resources in urban neighborhoods." The International Journal of Behavioral Nutrition and Physical Activity, 2(13), 2005. Available: http://www.pubmedcentral.nih.gov/articlerender.fcgi?tool=pubmed&pubmedid=16162285
4Active Living Research, Walking and Biking to School, Physical Activity and Health Outcomes (May 2009), at http://216.92.169.205/files/ALR_Brief_ActiveTransport.pdf.
5Baum H. "Smart growth and school reform: what if we talked about race and took community seriously?" Journal of the American Planning Association, 70(1): 14-26, 2004. Iceland J, Goyette K, Nelson K, et al. "Racial and ethnic residential segregation and household structure: A research note." Social Science Research, 39(1): 39-47, 2010.
Support/Funding
Support for this project was provided by a grant from the Robert Wood Johnson Foundation.
RECENTLY ADDED TOOLS & RESOURCES
Research Briefs & Syntheses
We are pleased to announce an exciting new alliance between Active Living Research and GP RED to co-host and coordinate...

The "Active Living Conference" aims to break down research and practice silos and...
August 14, 2018