Technology Tools for K-12 Community Use: Cost Calculator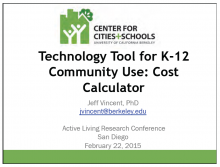 Author:
Jeff Vincent, PhD, UC Berkeley Center for Cities and Schools
Description:
Workshop at the 2015 Active Living Research Annual Conference.
Data about public school facilities and a vision for equitable access to great school environments drives the work of the 21st Century School Fund (21CSF) and the Center for Cities and Schools (CC+S). In this work shop, participants had an opportunity to see how we link the data, analysis, technology tools and policy and practice reforms. Participants worked with one of the tools--the Joint Use Cost Calculator--and with data supporting this tool, and learn how it can affect policy and practice. The workshop begin with a short presentation on the theory of change used and tested over 20 years at the 21CSF; and used and tested at the CC+S over the last 10 years. Following this presentation; participants learned to work with the Joint use Cost Calculator and explored its use in advancing policy and practice change associated with community use of public school buildings and grounds.
RECENTLY ADDED TOOLS & RESOURCES
Research Briefs & Syntheses
We are pleased to announce an exciting new alliance between Active Living Research and GP RED to co-host and coordinate...

The "Active Living Conference" aims to break down research and practice silos and...
August 14, 2018