The Trail Modeling and Assessment Platform: Building New Tools for Trail Development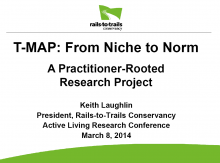 Author:
Tracy Hadden Loh, PhD, Keith Laughlin, Greg Lindsey, PhD, & Michael Lowry, PhD
Description:
Workshop at the 2014 Active Living Research Annual Conference.
The Rails-to-Trails Conservancy (RTC), the nation's foremost advocate for development of multiuse trails, has launched a new project with university-based researchers and local trail managers in more than nine cities in different climatic regions in the United States to develop web- and mobile-based tools for planning and assessing trails: the Trail Modeling and Assessment Platform (T-MAP). Inspired by the ALR conference theme Niche to Norm, this workshop brought together interests from the academic and advocacy communities in a dialogue about bringing evidence-based planning and management methods mainstream within the trails movement. This workshop outlined the objectives of the T-MAP project, engaged participants in discussions about practical approaches to measuring trail connectivity, estimating trail traffic, and assessing trail impacts, and explained how researchers and practitioners can participate in the T-MAP project. The workshop included an interactive demonstration of three GIS-based tools for calculating bicycle level of service (BLOS) on trails and streets, a place-based metric of bikeability, and a tool for converting intersection counts into bicycle volumes for all segments within a system.
RECENTLY ADDED TOOLS & RESOURCES
Research Briefs & Syntheses
The 2020 Active Living Conference will be held February 2-5, 2020 in Orlando, FL, USA.
Visit the official...

The "Active Living Conference" aims to break down research and practice silos and...
August 14, 2018